Hello!
I'm Danny, an ink and watercolor artist and urban sketcher currently living in Berlin. I offer workshops with a focus on urban sketching and drawing on location, and I also provide commissioned artwork and illustrations for businesses and individuals.
Where can I see samples of your artwork?
You can find a selection of my artwork – from illustrated maps and food sketches to cityscapes and architectural drawings – here in my portfolio. For my most up-to-date work, feel free to head over to Instagram (@dannyjhawk) or check out one of my sketchbook tours on YouTube.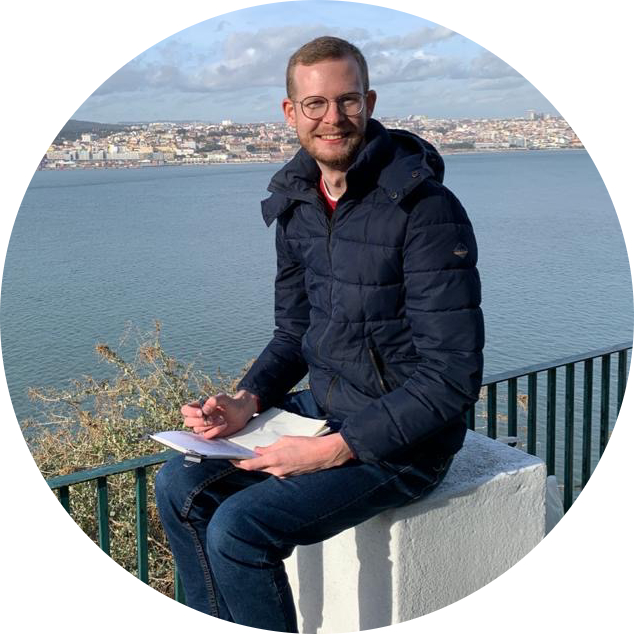 What workshops and online courses are you currently offering?
A complete overview of my workshops can be found here and is updated regularly.
How did it all begin?
Growing up as a kid, art was one of my favorite subjects. I loved to sketch, especially buildings and places. But somewhere along the way, that passion got pushed to the side. I went to university, double-majored in International Relations and German, and then, not sure what to do next, I moved from rural Ohio to Germany in 2012 in order to fulfill a different dream of mine – living abroad.
In other words, life took over and I forgot about art – for ten years, to be exact.
Yep, that's right. I went ten whole years without drawing a single thing. But then, in 2017, something magical happened: creative people started to come into my life, I began following artists online, I joined my local Urban Sketchers chapter in Frankfurt – and bam! I was hooked.
Since then, I've filled countless sketchbooks with ink and watercolor drawings – most of which are done on location. So if you ever see me out and about (I can usually be found hunched over a sketchbook with a paint palette in one hand and a fountain pen in the other), feel free to stop by and say hi! Or, or course, you can always send me a message: danny@dannyjhawk.com.