Ahh, Florida.
I started looking forward to this trip as soon as I booked my flight from Frankfurt to Tampa back in September. After all, Germany can get pretty gray in the winter, so I knew spending the holidays in Florida with my Mom's side of the family would be just the thing I needed to unwind after a busy fall. Plus, I couldn't help but get excited at the thought of doing some urban sketching OUTDOORS at the end of December and not getting frostbite in the process!
I flew out of Frankfurt International Airport on December 20, and as soon as I got on the plane, I got that tickling sensation in my fingers and started sketching.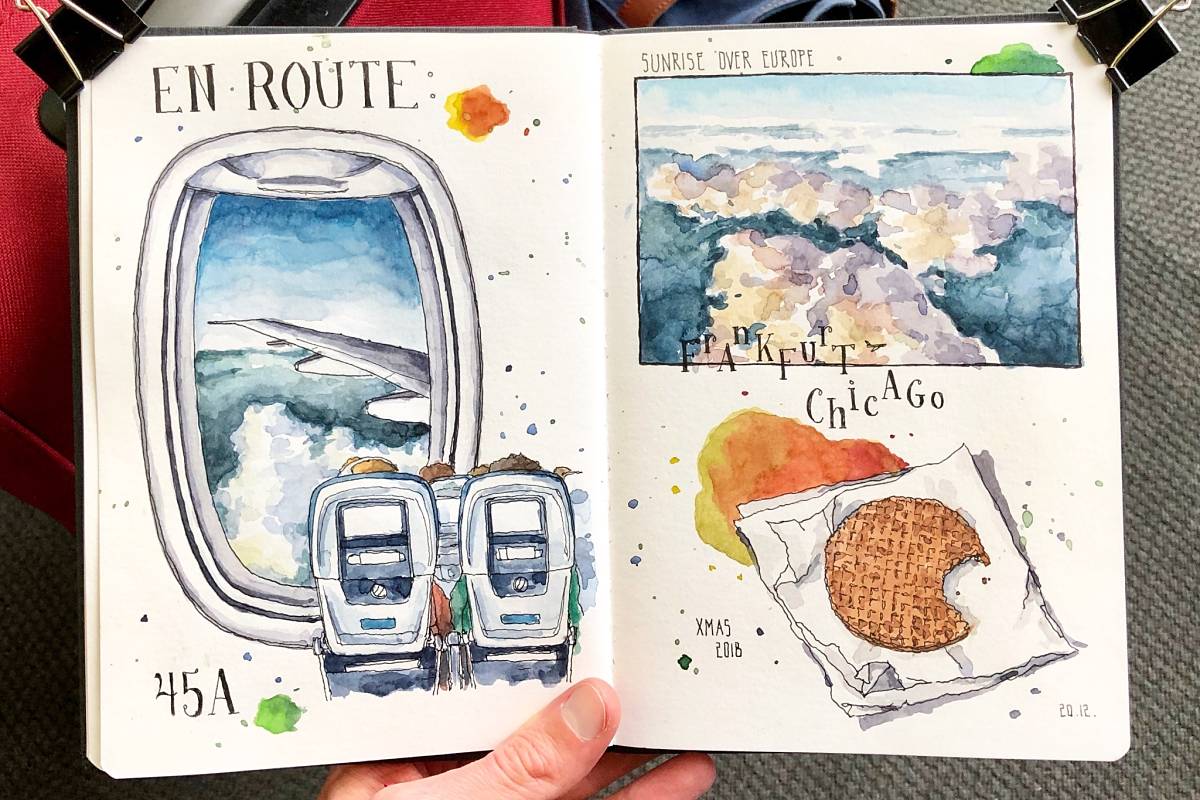 I don't think sketching on planes is really an easy task for anyone. Most of the time, you're crammed into the smallest of spaces, you're likely running on very little sleep, the lighting is terrible, and there's a good chance that your flight will be at least a little bit turbulent at one point or another.
So while I think this spread turned out okay overall, I definitely know I could've done a better job with certain parts (e.g. the clouds in the upper right).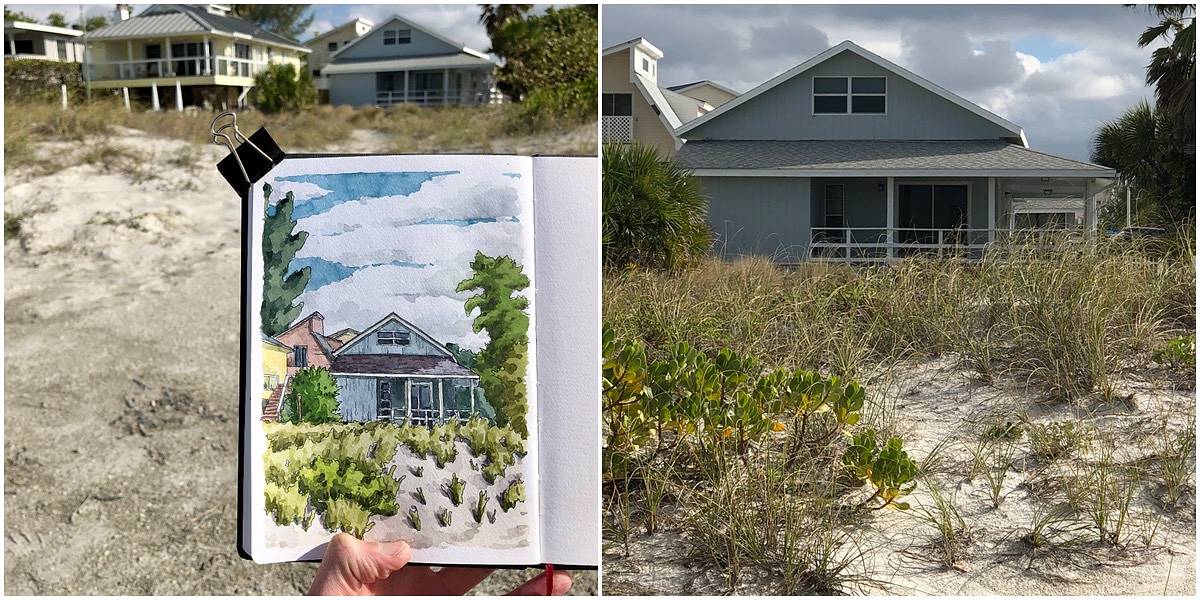 After meeting up with my brother and parents and settling into our rental home, I decided I would wake up early the first few days and do some urban sketching.
My first urban sketch in Florida was at the beach in Indian Shores just a five-minute walk from where we were staying. Since a storm had hit the previous evening, it was incredibly windy and also a bit chilly. But having sketched in windier conditions before (I'm looking at you, Ireland), the wind on the beach was just a minor nuisance.
The sketch above is my favorite from Florida, and – not to toot my own horn or anything – I really like how the sky turned out. I'm also quite happy with how the sand dunes turned out, since I hadn't sketched this type of flora before.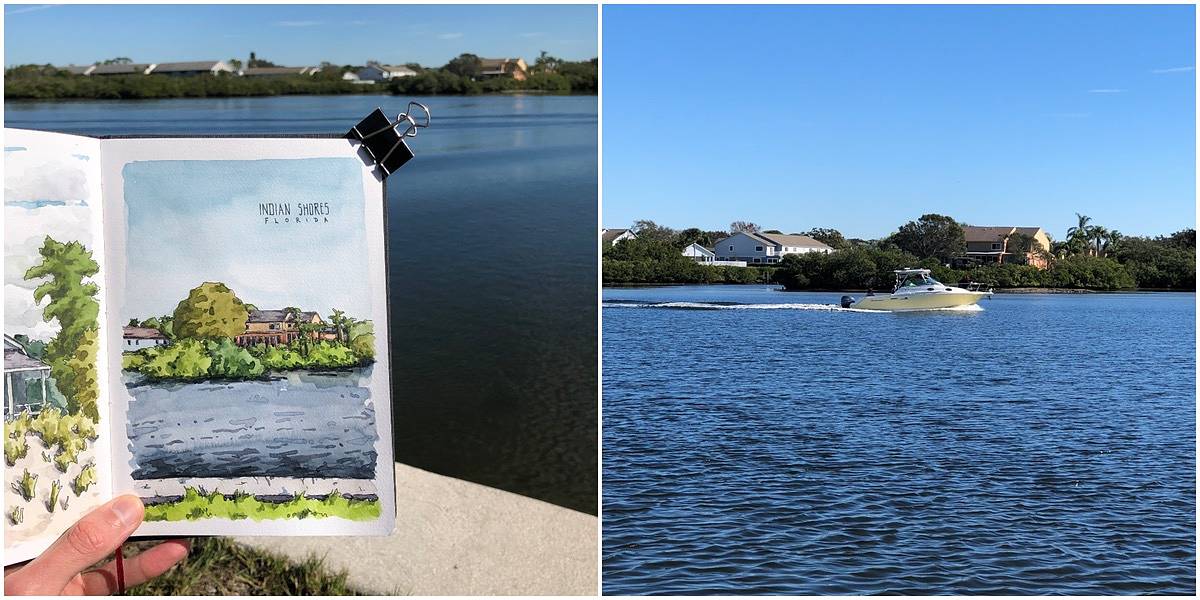 The next morning, I headed out again, but this time I went to the intracoastal waterway on the other side of town. It was much less windy there, and I also managed to get a sunburn on the back of my neck (yes, folks, the Florida sun can get that strong in December!).
As simple as this scene was, it was still fun to sketch the palm trees and paint the dark blue water.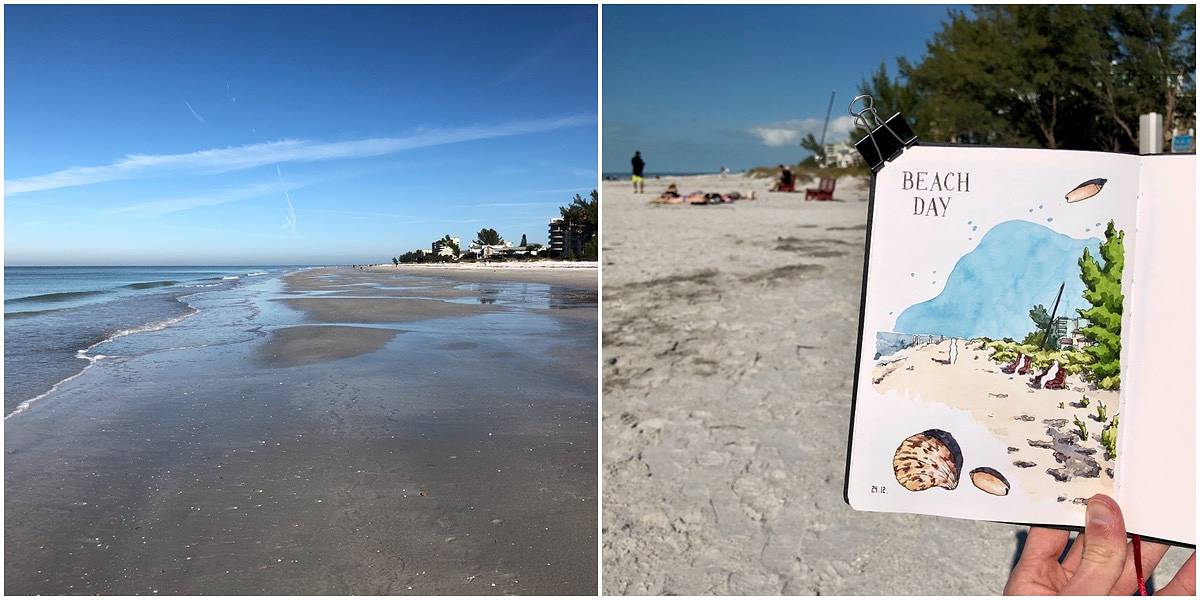 My third urban sketch from Florida (pictured above) was on Christmas Eve, which I spent at the beach with my mom for a few hours. I've come to realize that beach landscapes are really difficult for me, since the landscape is so flat and I'm not sure what to focus on. Should I pick the waves? The people? The shells? The clouds?
In this case, I settled on a combination of things – that is, the view in front of me and then a few closeups of some seashells I found.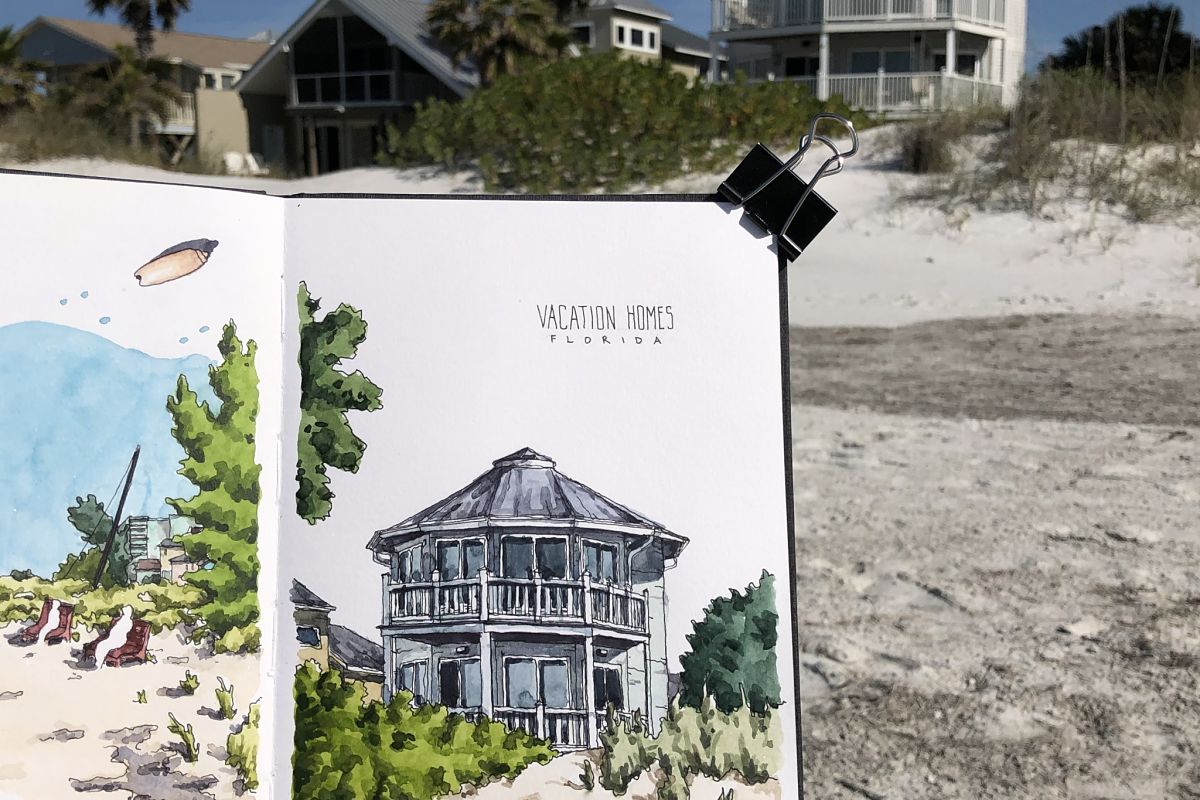 The day after Christmas, I headed back to the beach at Indian Shores to sketch another beach house. The octagonal look of one of the houses had caught my eye on a walk the other day, so I thought it would be fun to sit down in the sand and sketch it!
It was definitely a challenge to wrap my head around the different angles of the roof, but I had fun working out the perspective and figuring out where the lines met up.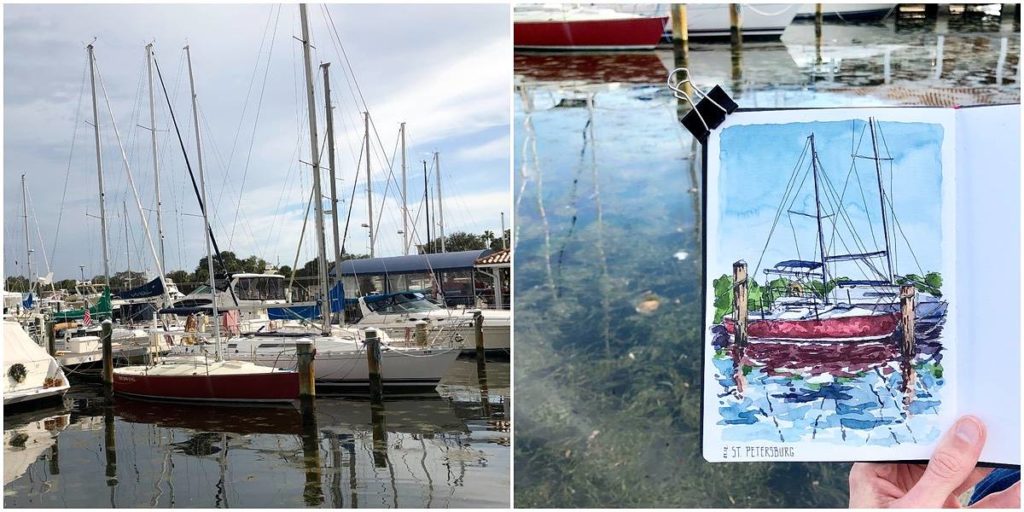 After that, I went a few days without doing any urban sketching. However, one afternoon, we headed out to St. Petersburg and I had some time to sketch down at the waterfront while everyone else was shopping.
I initially chose to sketch the red sailboat pictured above. But while there were quite a few clouds when I sat down, the sun ended up coming out and I realized that the lighting was terrible and everything was in the shadows. But hey, we urban sketchers like our challenges, don't we?
Speaking of challenges, I went a bit overboard with the reflections in this sketch and feel I could've done a much better job with the water. So clouds and reflections – that's apparently what I need to practice more of after this trip!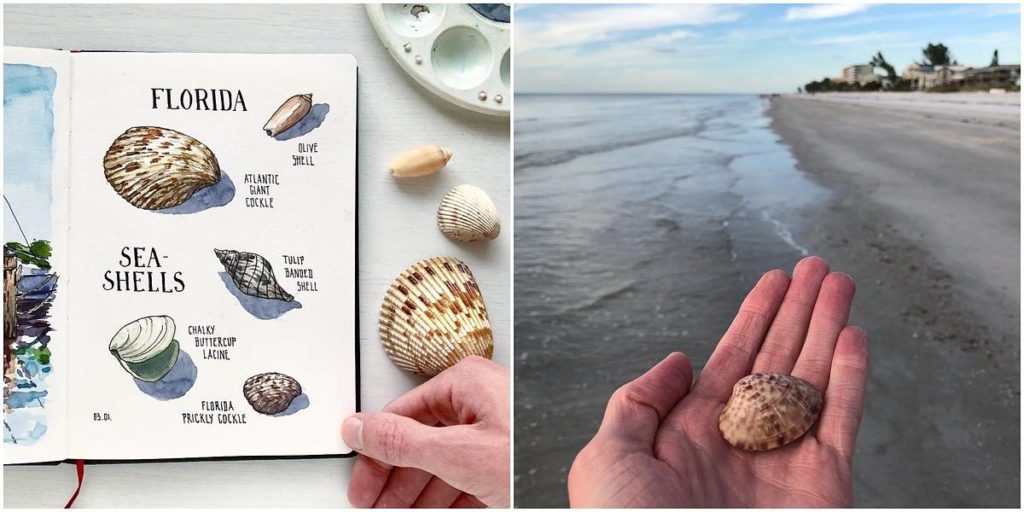 My last Florida sketch – the one above – wasn't technically done during my trip, but I'm including it in this post because it still fits the theme.
I brought a few seashells back to Germany with me and decided it would be fun to identify them while sketching them. I think the giant Atlantic cockle and the tulip banded shell are my favorites, but I'm happy with how all of them turned out.
Overall, a few days of sun and urban sketching were just what I needed to recharge my batteries. While I hate to think that we still have roughly three months of this weather, I do have an escape or two planned soon to Southern Europe.
Stay tuned to find out where! ;-)
PS: You can watch a video I posted to my YouTube channel about my Florida sketches here.