Valencia.
I'll admit, I didn't know a whole lot about Spain's third-largest city when I hopped on a plane in August. Sure, I had heard about the neo-futuristic City of Arts and Sciences. And I'm pretty sure I read something once about how Valencia is the home of paella.
But faced with the prospect of visiting Andalusia in 100-degree heat or opting for a slightly cooler destination in eastern Spain, I chose the latter (after all, sketching with beads of sweat running down your forehead is NOT my idea of a fun vacation).
The first of my Valencia sketches started before we even landed – and it was also the first in a new sketchbook (the fifth one this year, to be precise – yay!).

It was a bit difficult to sketch on the plane given: a) the limited table space and b) the turbulence. And to be completely honest, I ended up waiting until we landed to do the lettering, since I didn't want to mess anything up. But it was still a fun sketch to try out and unlike anything I had done before!
After a night's rest in the old town, I set out on my first morning to discover the city – sketchbook in hand, of course! The Valencia city hall, or Ayuntamiento de Valencia, had captured my eye the evening before while I walked to my hostel, and so I decided it would be the perfect place to start my sketching tour of the city.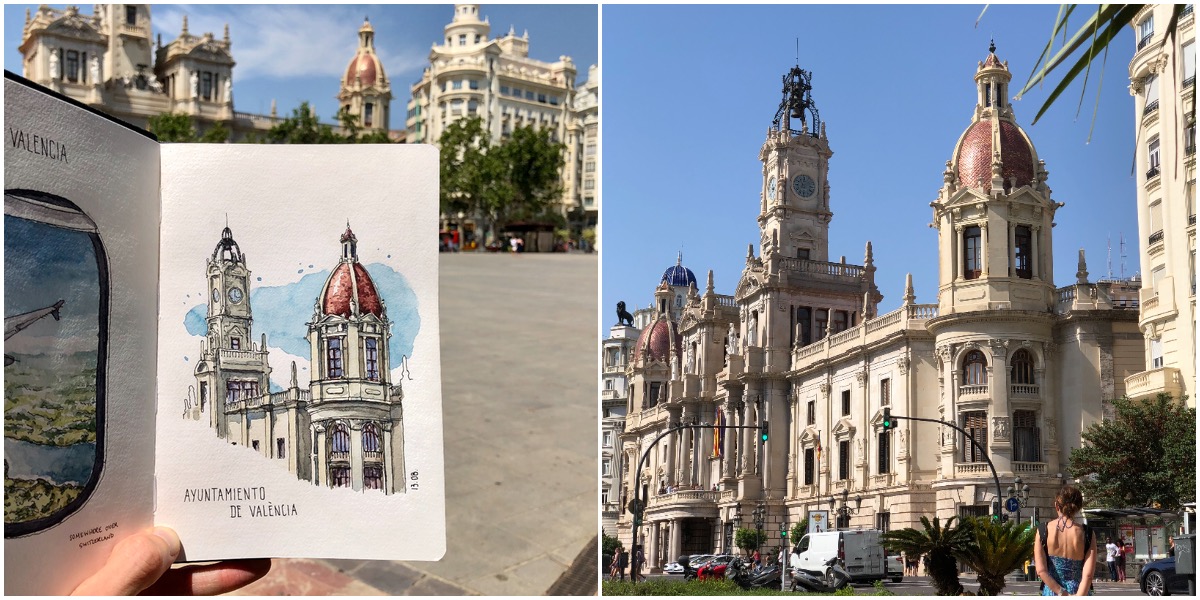 As usual, I spent waaaay more time than I would've liked to sketching the city hall (spoiler alert: I'm a super slow urban sketcher). So having spent a good part of the morning at the main square, I booked it to the other side of town where the futuristic City of Arts and Sciences was. After all, if there was one thing I wanted to sketch during my time in Valencia, it was most definitely this.

Both of these sketches were really fun to do, although oddly enough, the one on the right was more of a challenge (I'm thinking it's because of the glass and reflections). In any case, I'm quite happy with how both turned out. I mean, how often do you get to sketch buildings as cool as this?!
The next day, I met up with the local Urban Sketchers Valencia chapter for a sketch crawl in the old town. I had contacted them before arriving, and they were kind enough to organize a meet up to show me around. How cool is that, guys?! We ended up sketching the Iglesia de Santa Catalina (lower right) and then headed to Plaza de la Virgin (lower left).

After three days in Valencia, I took a train inland to Cuenca, a beautiful medieval town in Castilla-La Mancha known for its casas colagadas, or hanging houses. Since the weather (and lighting!) was perfect when I arrived, I went for a walk and found a beautiful place perched up on a hill across from the old town where I did the following sketch.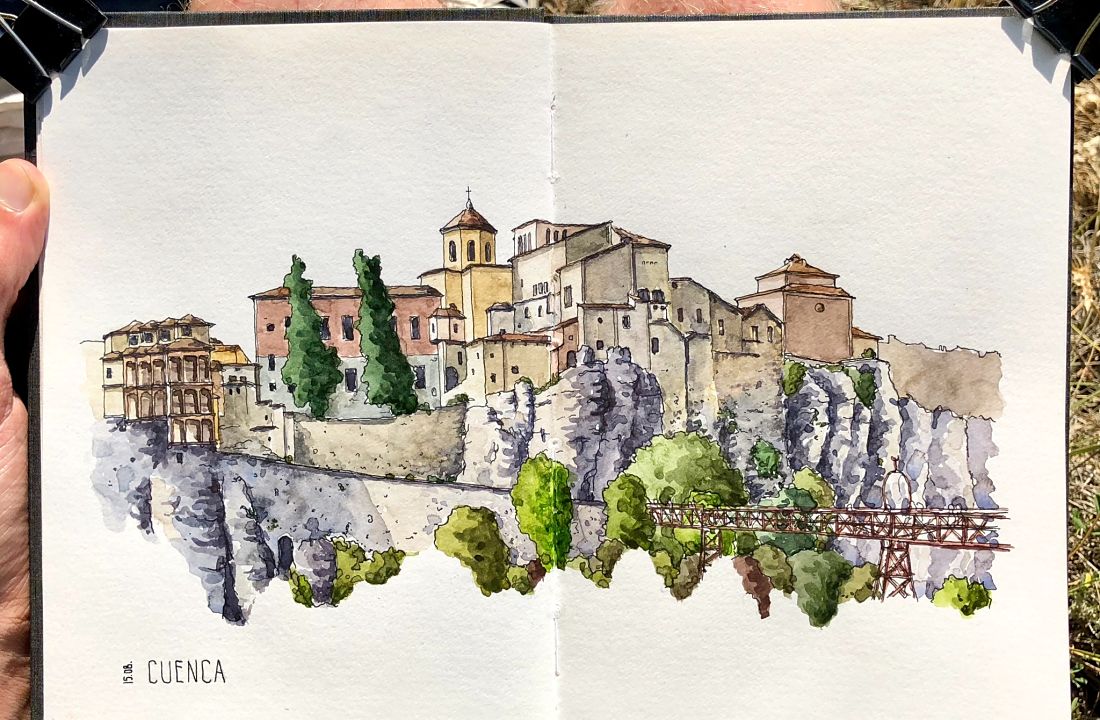 I didn't get much else done that afternoon (the panorama sketch of Cuenca took at least four hours!), so I spent the evening walking around the old town and having a glass (or two) of tinto de verano.
After spending the night in Cuenca, I woke up to a wet and cloudy morning. But determined not let the weather dampen my spirit, I decided to head to Plaza Mayor, or the main square, where I found a dry spot on the steps of the cathedral. Once the rain let up, I finally made it to the famous casas colgadas and did the last of my three sketches in Cuenca before taking the train back to Valencia. Both of these sketches – the Playa Mayor and the casas colgadas – are pictured below.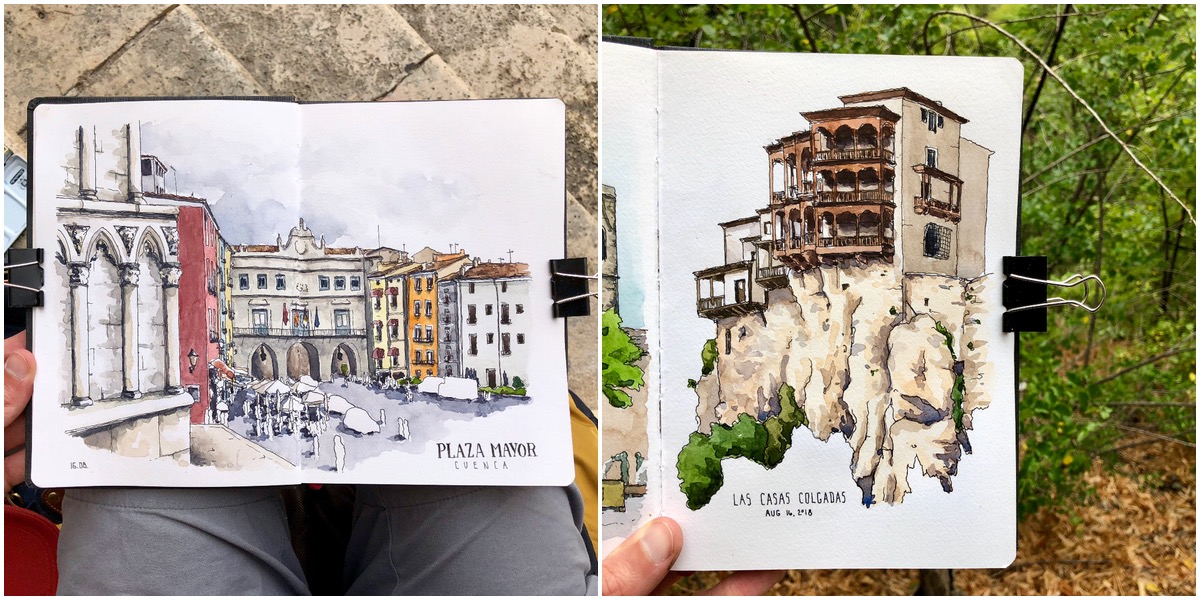 Back in Valencia, I ended up getting two more sketches done: one of the Puerta de la Mar, a classical arch near my hotel, and the other of the Mercat Central, or the central market.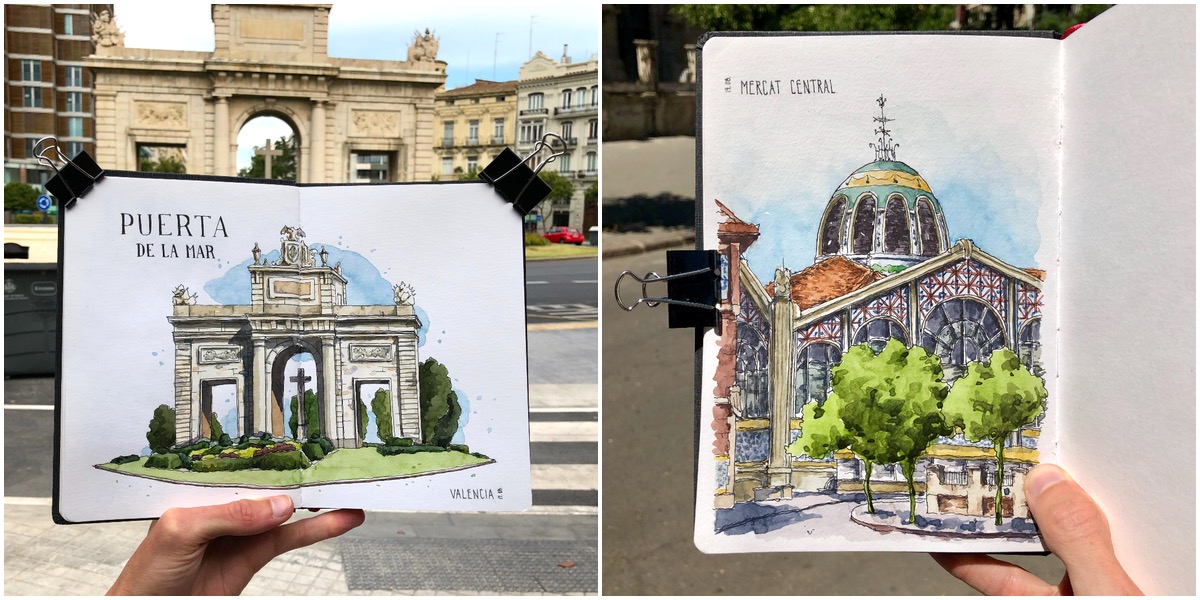 On my last full day in Spain, I decided to take a day trip to the town of Xàtiva, which is located less than an hour south of Valencia. Being the castle lover that I am, I knew I was in for a treat. I mean, look at this place!

Unfortunately, my train was delayed (I guess that doesn't just happen to Deutsche Bahn here in Germany…), so I only had time to do the line work of the castle before heading back to Valencia. I put some colors on later that evening in my hotel room, and despite the fact that I only got half of it done on location, the sketch ended up being one of my favorites from the whole trip.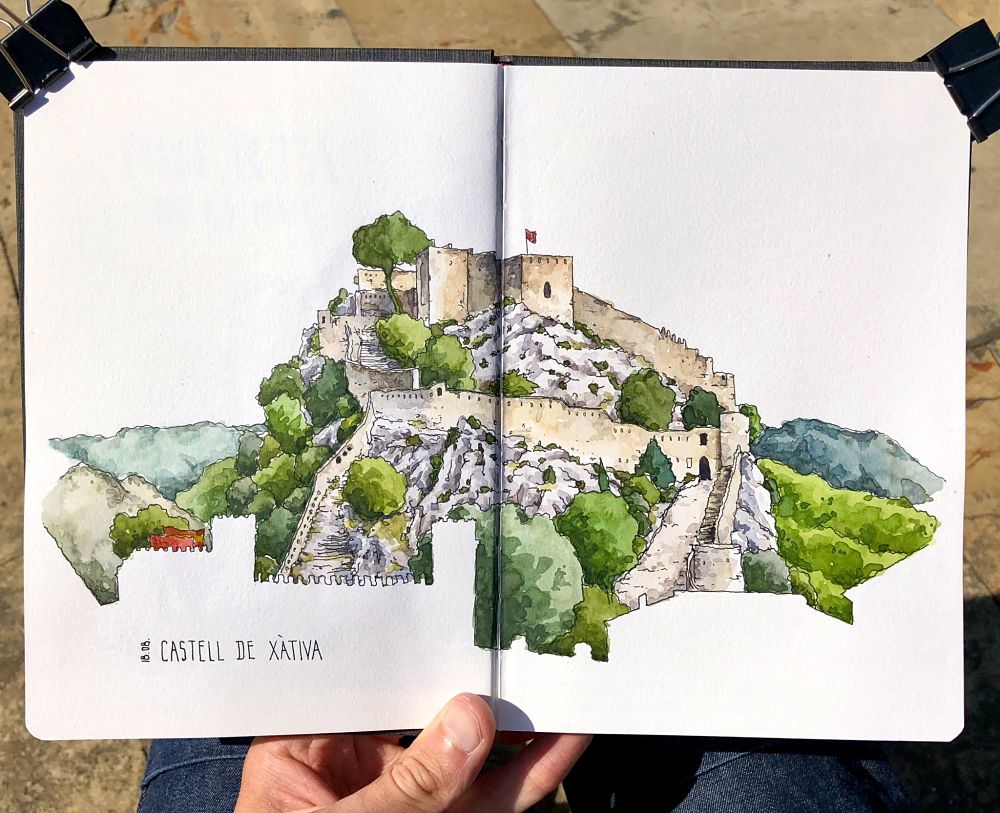 Overall, my vacation in Valencia and the surrounding region was just as a vacation in Spain should be: beautiful, relaxing and surprising. Of course, I didn't just sketch the whole time. I also enjoyed plenty of tapas and tinto de verano (seriously, why can't I get this drink back in Germany?!), and I also enjoyed walking around the cities and taking in the laid back pace of life.
Before my trip to Valencia, I had been to Spain four times (although this was only my second time sketching there). But I have a hunch I'll be back again someday – sketchbook in hand and watercolors ready to go, of course!