Earlier this fall, when I realized I still had quite a few vacation days left, I decided to plan a five-day sketching trip to Southern Europe. I decided to wait until the end of November, since October is often a nice month in Berlin and the fall colors are in their prime.
I decided on Rome for a few reasons. First, I wanted to go someplace warm and sunny – or at least warmer than Berlin in November. Second, I wanted to challenge myself with architecture. And third, I wanted a place that would provide me with a variety of sketching subjects.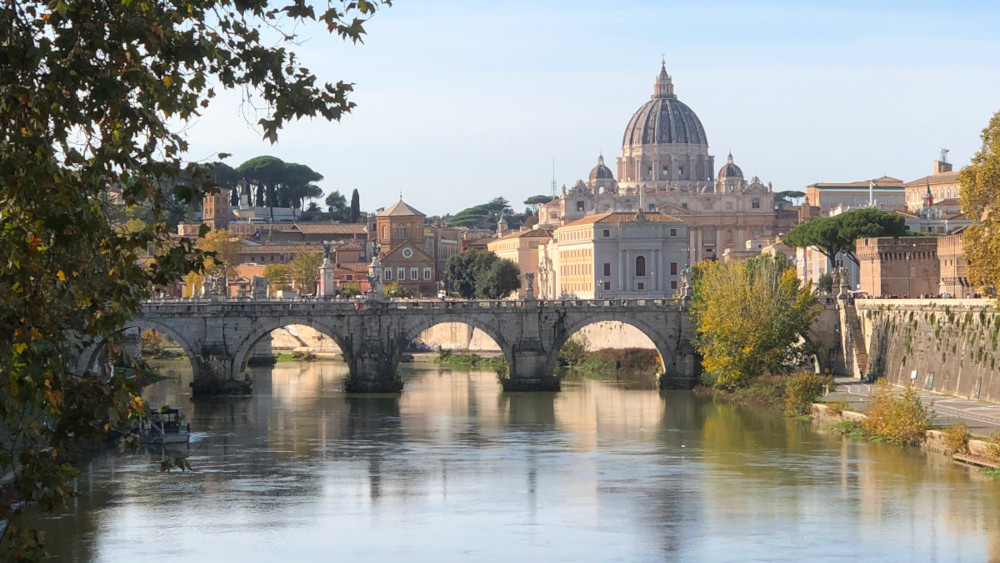 To make the most of my time in Rome, I decided in advance on some of the subjects I wanted to sketch. I crosschecked maps prior to my arrival so that I knew what time of day the lighting would be best in each location (e.g. going to places facing east in the mornings and places facing west in the afternoons).
This really ended up being a big time saver, since I didn't have to wander the streets aimlessly or go to a certain location only to find poor lighting. What's more, I wanted to fill up a ten-page accordion sketchbook in the five days I was there (scroll to the bottom to see the completed sketchbook), so I was on quite a tight schedule.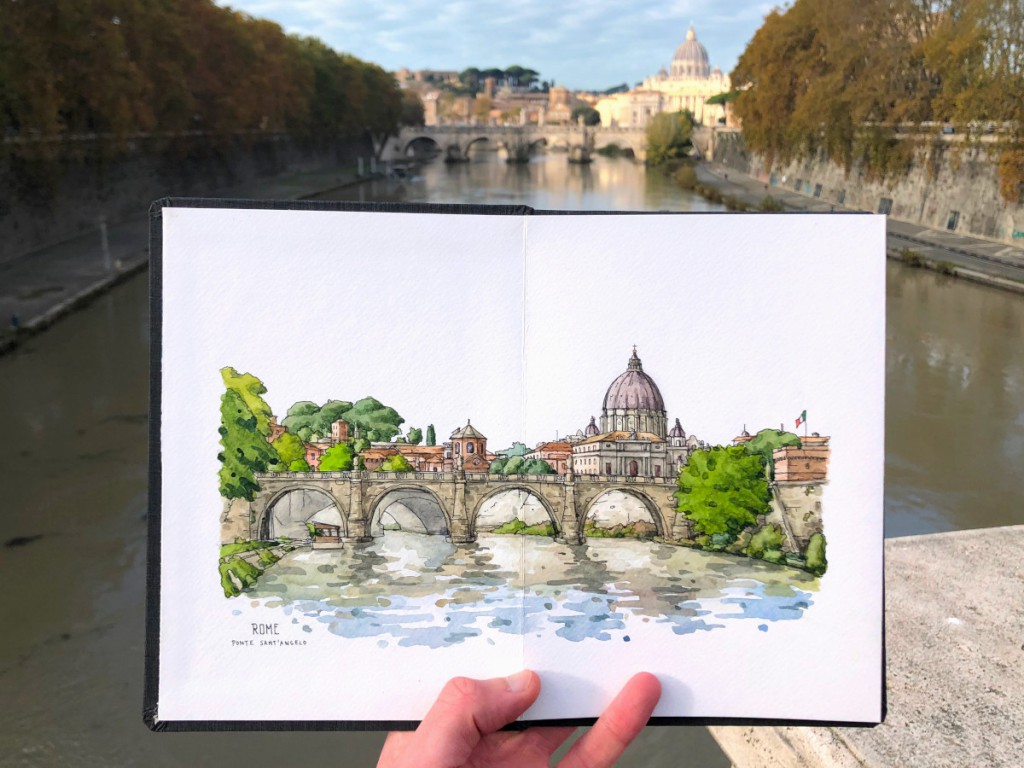 After arriving late on a Sunday evening, I woke up the next morning shortly after dawn and headed to the banks of the Tiber River for my first sketch. Few things get me up and out of bed at 6:30 AM on vacation, but the thought of sketching this view certainly did the trick.
It took me a little while to switch gears and get used to architecture sketching again. After sketching so much nature in Berlin the past few weeks, I had grown used to the loose and curvy lines of colorful fall trees rather than the straight and angular lines of buildings, bridges, and roads. Nonetheless, I'm quite happy with how my first sketch turned out, and it set the bar high for the rest of my sketches that trip.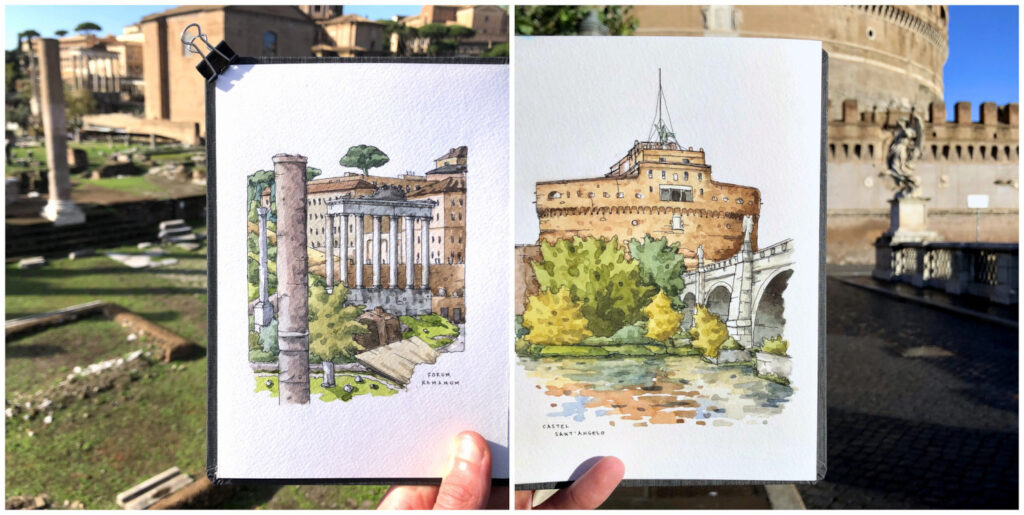 Since I wanted a fair mix of horizontal and vertical sketches, I decided to divide my accordion sketchbook into three panorama sketches that covered two pages each and four vertical sketches that covered one page each. So for the next two sketches of the Forum Romanum and Castel Sant'Angelo (pictured above), I confined myself to one page.
I started what is probably my favorite sketch of the trip – the Colosseum (as touristy as it is) – on my second day in Rome during a break in the afternoon rain. I went to Via dei Fori Imperiali – a long narrow street flanking the Forum Romanum – and sat under an umbrella while doing the line work. I decided to hold off on adding watercolor since there was too much humidity in the air, so I returned to the same spot the next day to finish things up.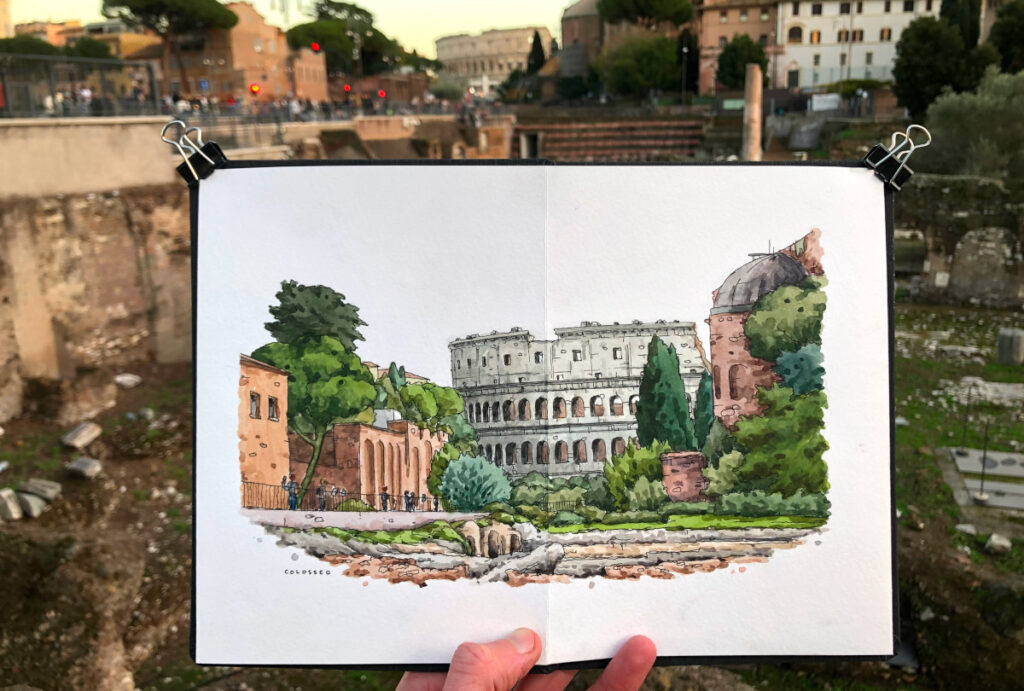 Getting the lines, curvature, and perspective of the Colosseum correct was a lot harder than I thought it would be. However, breaking this sketch into two sessions – one for inking and the other for painting – helped a lot.
Around mid-week, I felt like I should switch gears and incorporate a few more people into my sketches. After all, it wouldn't be Rome without all the tourists and pedestrians. The Vatican City ended up being a perfect place for this, and I had a lot of fun framing my sketch with all the people in the foreground. I also got some more practice at the Monumento a Vittorio Emanuele II, where I focused on the huge centerpiece of the king on a horse.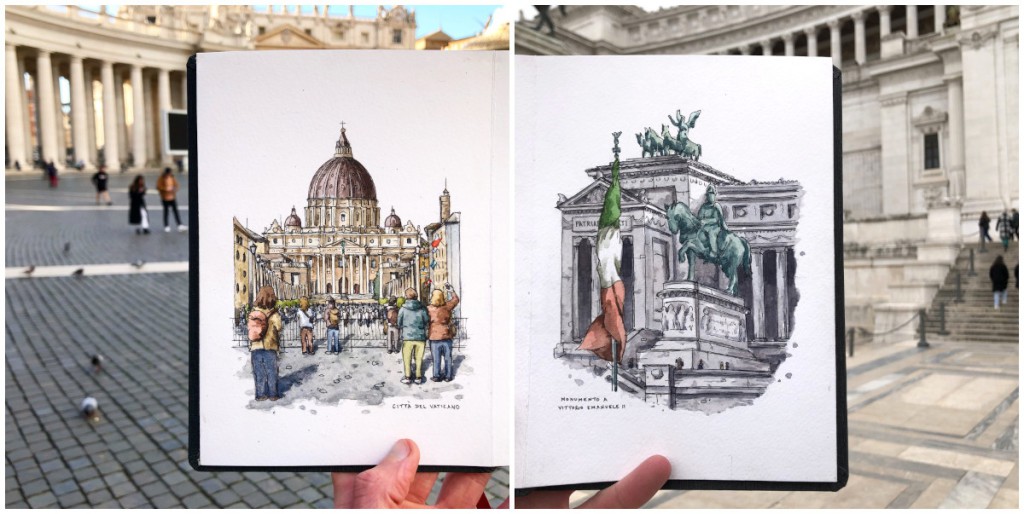 I saved the last two pages in my accordion sketchbook for a panoramic view of the city. I visited Gianicolo Hill with an Italian friend one evening and knew it would be the perfect place to return during the day for a skyline sketch. I was especially drawn to the gray blue mountains on the horizon, the soft pastel colors of Rome's old town in the middle, and the warm greens and yellows of the deciduous trees in the foreground that were about to lose their leaves.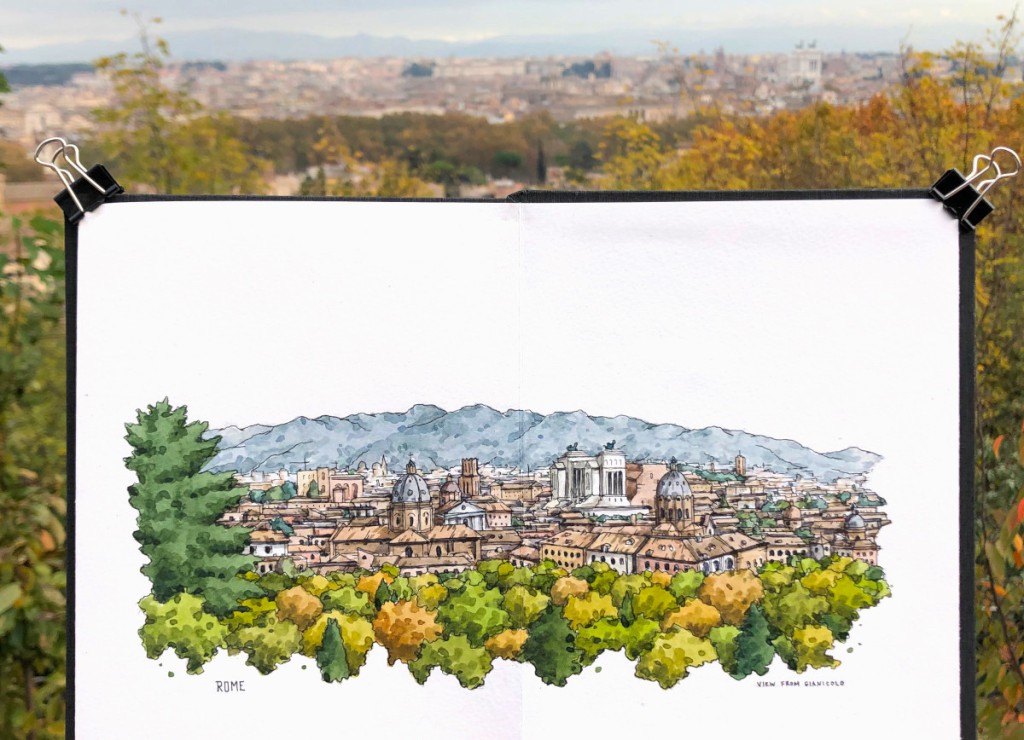 Sometimes, a cityscape is a bit daunting at first glance. But when you realize it contains so many lines and angles that you have the liberty to get a fair amount of them wrong without anyone noticing, it takes a bit of the pressure off. Plus, by focusing on the main subjects (in this case, the church towers and monuments), it's much easier to get a sense of what's happening in your sketch and how the buildings line up to each other.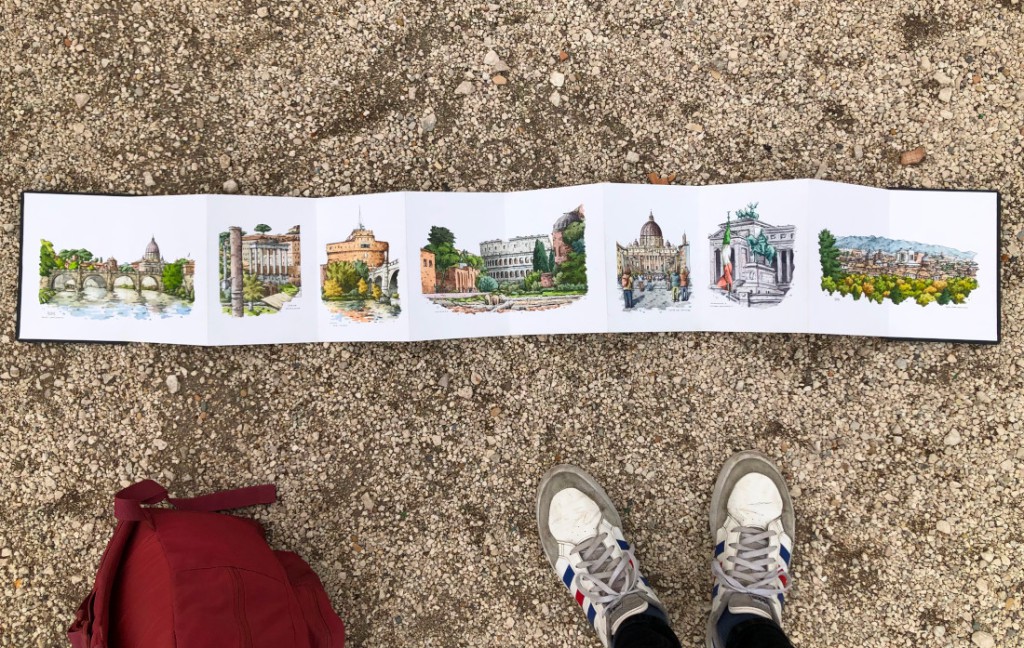 Overall, I was really happy that I was able to meet my self-assigned goal of filling my ten-page accordion sketchbook during my trip. Since I technically only had four days to sketch due to a bit of rain, my trip to Rome was a sketching marathon to say the least.
I should note that I'm not always a fan of planning my sketching trips so minutely in advance. In fact, I often love the role that coincidence plays in determining my subjects. However, doing just a little bit of homework went a long way in making the most of the short time I had in Rome. Plus, now that I've had a chance to capture a lot of the more touristy places in my sketchbook, I can focus on lesser known subjects if I return to Rome soon on another sketching trip!