Those of you who have been following along on Instagram (@dannyjhawk) will know that I traveled to Paris and the Loire Valley last week to do some sketching. While I had been to Paris twice before (although, regrettably, without a sketchbook), the chateaux of the Loire Valley were still high up on my bucket list. So when I came across cheap flights from Frankfurt to Paris, I jumped on the opportunity and planned a nine-day itinerary to sketch my way across the region.
My trip to France started off in the French capital, where I spent two days drawing the main attractions. It may sound a bit morbid, but ever since the fire at Notre-Dame, I've wanted to return to Paris and sketch there. I think this is partly because I saw so many sketchers posting their drawings of the cathedral on social media in the wake of the fire.

In any case, Paris served as a great spot to get warmed up, and I also had the chance to meet up with four other sketchers from Instagram. It was so much fun to have some company while sketching along the Seine and in Montmartre, and I enjoyed hearing everyone's stories and how they came to urban sketching.

After two short but intense days in Paris, I headed to Orléans, where I spent the next two nights. On my first day, I decided to tackle the front façade of the cathedral, which turned out to be quite a challenge. Needless to say I was a bit tired by the time I got around to my second sketching in Orléans – a row of houses on Rue de la Poterne.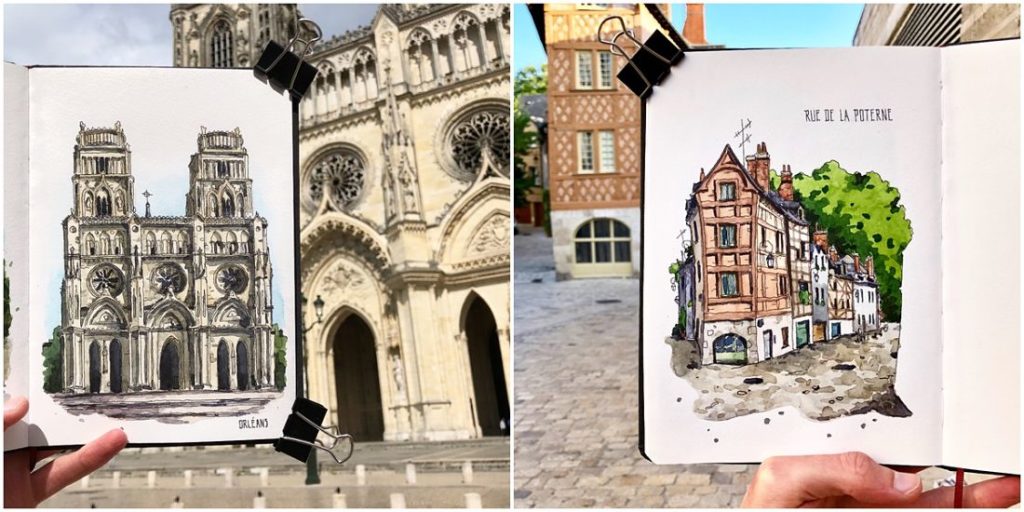 From Orléans, I set out to Chateau de Chambord – the first of four chateaux that I visited. This was the only chateau that I knew in advance I wanted to visit, since I planned on choosing the other chateaux spontaneously as I made my way across the region.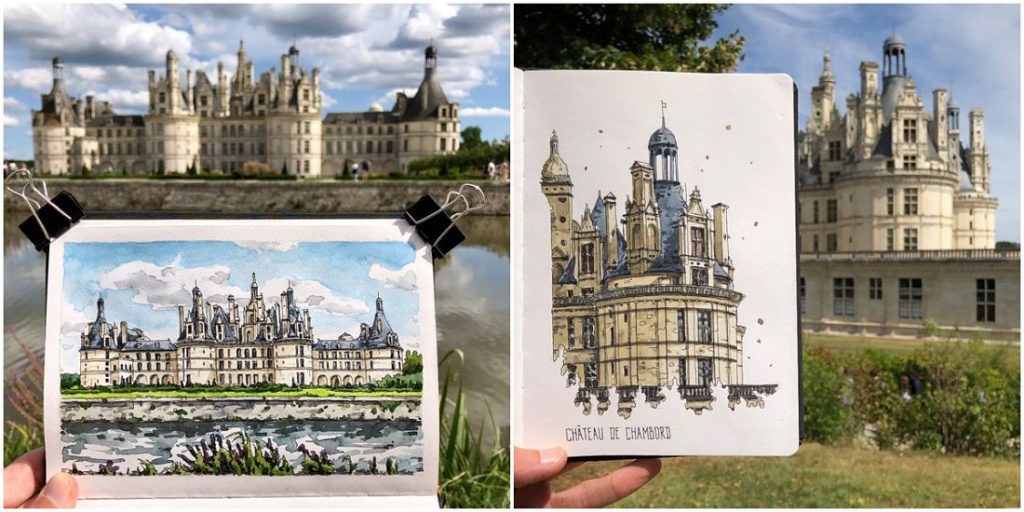 Next up, I headed to Tours, which served as my base for the following three days. I swore that after sketching the cathedral in Orléans, I'd take a break. But then I walked by the cathedral in Tours and couldn't help myself!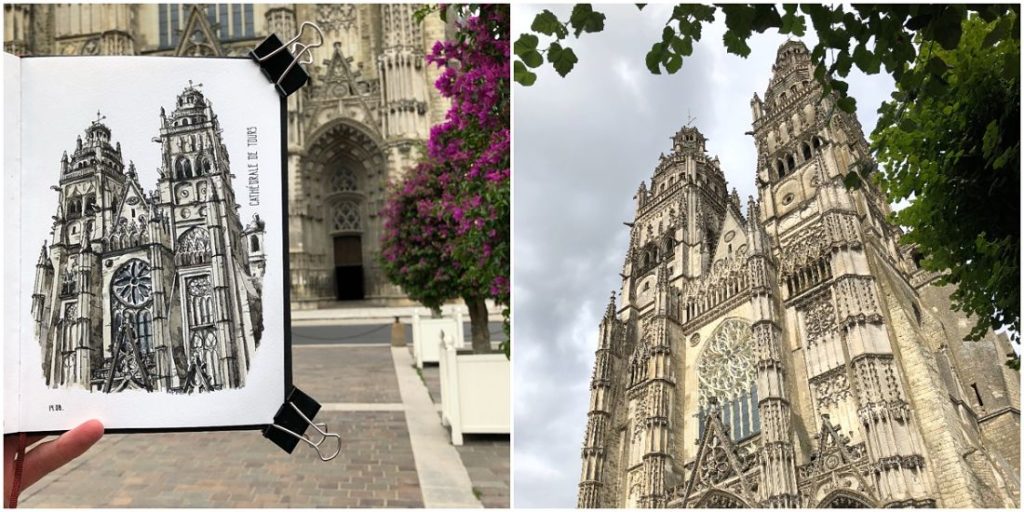 The next day, I visited my second chateau: Chateau de Chenonceau located on the Cher River. It was a bit overcast when I arrived in the morning and started my first sketch, but luckily the weather cleared up soon and I found a spot away from all the crowds in the afternoon for a panorama sketch.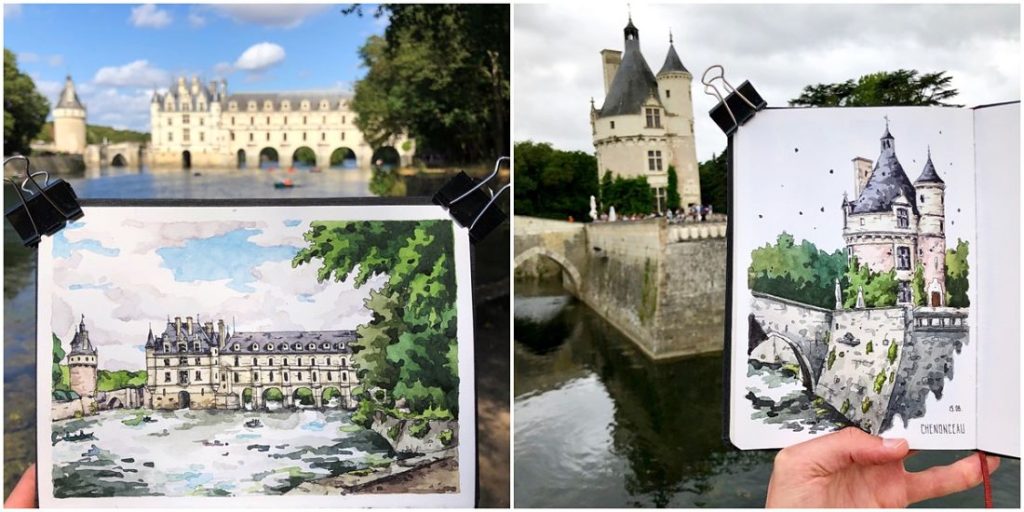 After that, it was off to Chateau de Chaumont on the next day – that is, after taking a detour through Amboise (I accidentally got off the train one stop too early!). Out of all the chateaux, I think Chaumont – in addition to Chambord – was my favorite. In particular, I loved the location of Chaumont high up on a hill overlooking the Loire Valley. I nearly missed out on the gardens at Chaumont, but luckily realized this on my way out and decided to turn back around. I'm glad I did so, since I ended up meeting two sketchers from France who ended up drawing in the same spot as me in the gardens!

The fourth and final chateau I visited was in Azay-le-Rideau. It turned out to be quite a rainy day, so I thought about leaving this off my itinerary. However, I was determined to capture one last chateau in my sketchbook, so I decided to brave the elements and attempt a sketch.
The panorama sketch of Chateau d'Azay (below on the left) was probably one of the most challenging of the trip (along with the sketch I did of the Tours cathedral). That's because I had to hold an umbrella in my left hand for 95% of the sketch. Once I finally finished this sketch, I only really had time (and energy) to do some smaller architectural studies of the chateau, including a tower, a window and a set of chimney stacks, before heading back to Tours.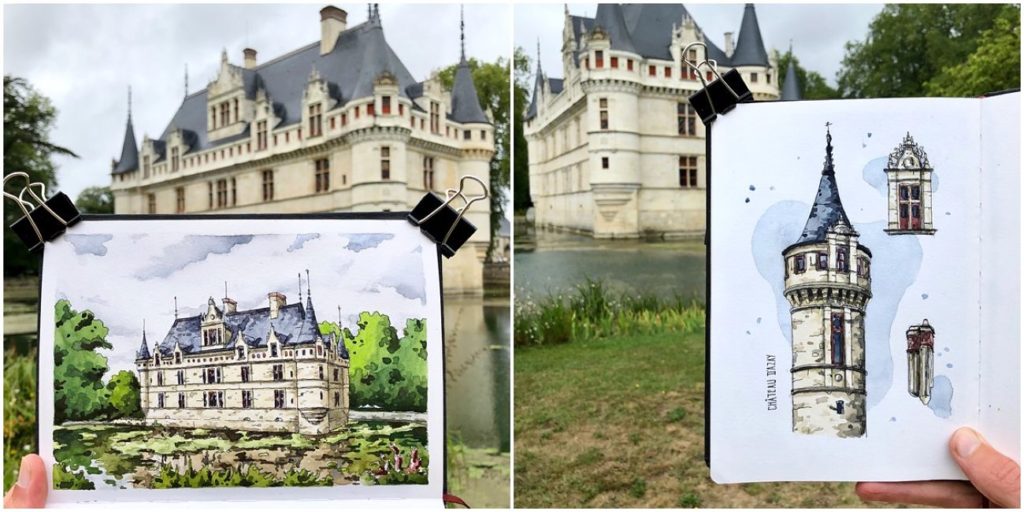 I caught the train back to Paris later in the evening and had one last day in France before flying back to Frankfurt. I'm glad I added another day in Paris onto the end of my trip, since I had the opportunity to sketch something I missed during my first two days in Paris – the Eiffel Tower.
While I had a lot of fun playing around with the perspective in this sketch (seriously!), I have to admit that the Eiffel Tower isn't one of my favorite architectural landmarks (and this is coming from someone who loves to sketch towers). Don't get me wrong – it's certainly a cool structure. But in my opinion, it's just a bit too, umm, industrial? Or perhaps it just stuck out too much after sketching French Renaissance architecture for the past few days. Regardless, I'm still glad to have captured it in my sketchbook, and it was a great way to round up my trip!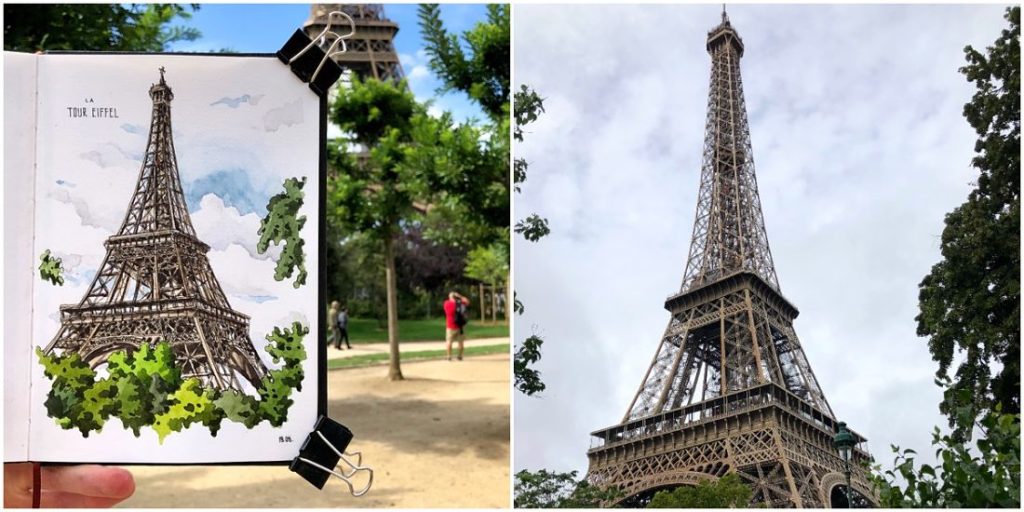 So nineteen sketches later, you'd think I'd be tired of drawing architecture by now. But I guess France had the opposite effect effect on me, since I'm hoping this won't be the last time I get to do some chateau sketching!